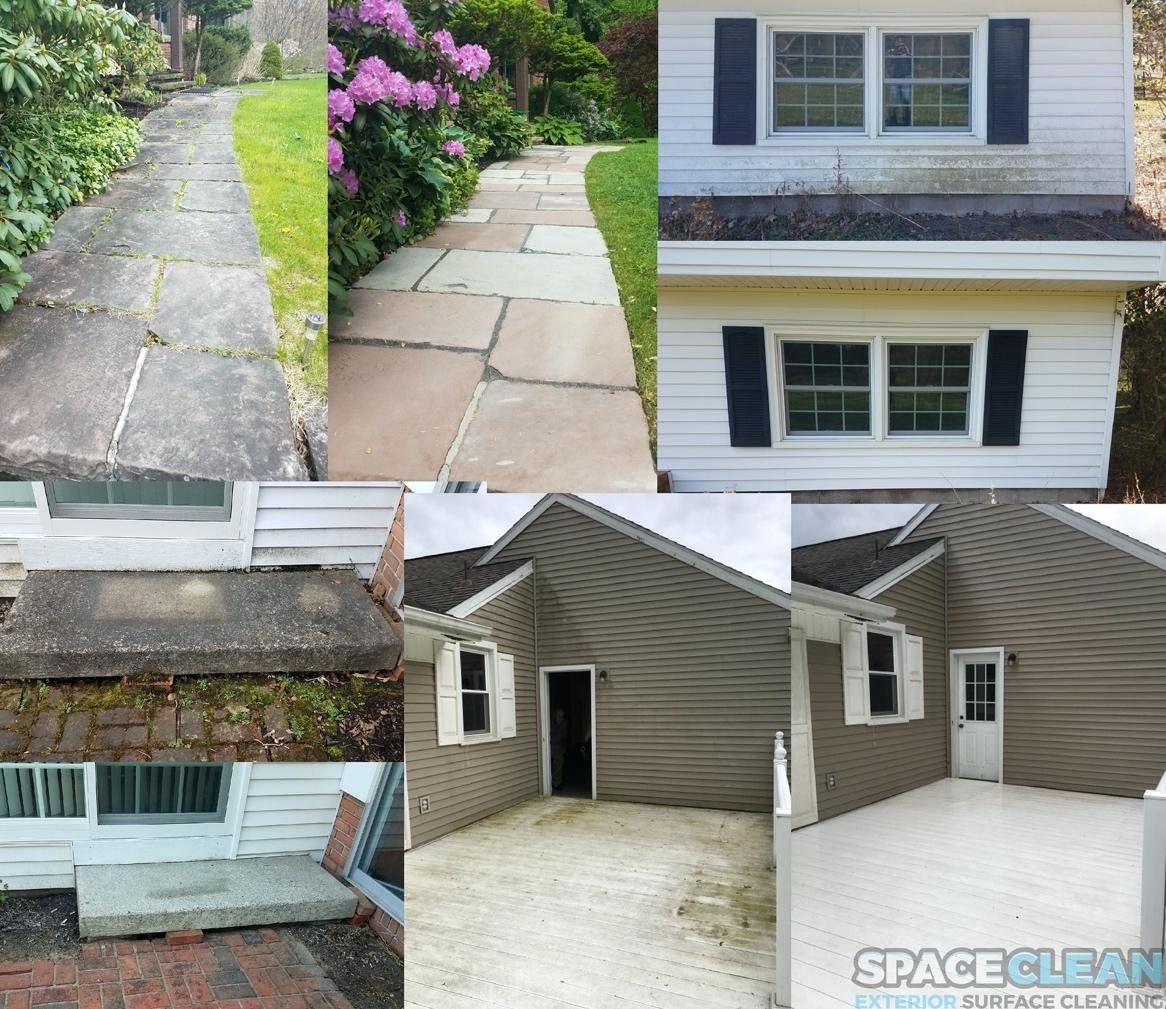 Guest article provided by spaceclean.net
Whether you are preparing to sell your house or just want to be wowed when you pull up to your driveway, there are several things that can be dramatically improved with just a good pressure washing.
The most important thing to know before starting your pressure washing transformation is that there are different methods used to clean exterior surfaces – depending on the surface. The most common forms of exterior cleaning are pressure washing, power washing and soft washing. 
Although soft washing, power washing and pressure washing seem similar they all use different techniques, equipment, pressure and chemicals. Power washing and pressure washing use a much more powerful water pressure than soft washing and power washing is typically done with much hotter water than pressure washing. The Soft Washing method uses a low-pressure system combined with biodegradable disinfecting cleaning solutions to remove stains and build-up.
To prevent damage, it is important to know the right technique recommended for the surface you are cleaning before you start; otherwise, it is advised to hire a professional exterior cleaning company.
Once you have determined the right technique, or hired a professional, the following surfaces can be transformed before your eyes:
Concrete and Asphalt Surfaces:

Driveways,

sidewalks and walkways can be pressure washed to remove oil, grease, rust, fertilizer, algae, animal droppings, moss, paint and more.

Brick and Siding:

The exterior of your home can be restored, removing years of dirt and stains, with the soft washing method. It is recommended that vinyl siding be washed annually; however, if you have years of built-up dirt, it can likely be removed.

Gutters and Fascia Boards:

It is common for gutters to get dark streaks down them from overflow of water and debris. Gutters and fascia boards can often look new again after a good cleaning. Some gutters may need additional cleaning products to remove streaking. 

Patios and Brick Pavers:

Power washing your patio is a fast, easy way to immediately increase the curb appeal of your outdoor living areas. Pressure washing can remove years of paint, mold and algae from your pavers, flagstone and bricks. It is recommended to refill the sand between your bricks and pavers after pressure washing your patio to ensure stability.

Roofing:

Most often people assume they need to replace their roof when they see streaking or algae build-up on their shingles; however, most of that can be removed with a good roof cleaning. For safety reasons, it is recommended that a professional handle this particular job; but it is worth the investment as it could save you money in the long run by increasing the lifespan of your roof.

 
Decks and Fencing:

Weathered and algae covered fences and decking can really take away from your home's curb appeal. Replacing the material, is not always the answer. Your outdoor wood and composite surfaces can be pressured washed using the soft wash method to remove algae, sap, old paint, animal droppings and more. 
In addition to you exterior cleaning projects, finish off with some nice landscaping! For more information, check out the resources here on How to Master Your Garden.
Thanks for reading!
–Space Clean, a locally owned and operated pressure washing and window cleaning company serving Rochester, NY and surrounding areas.